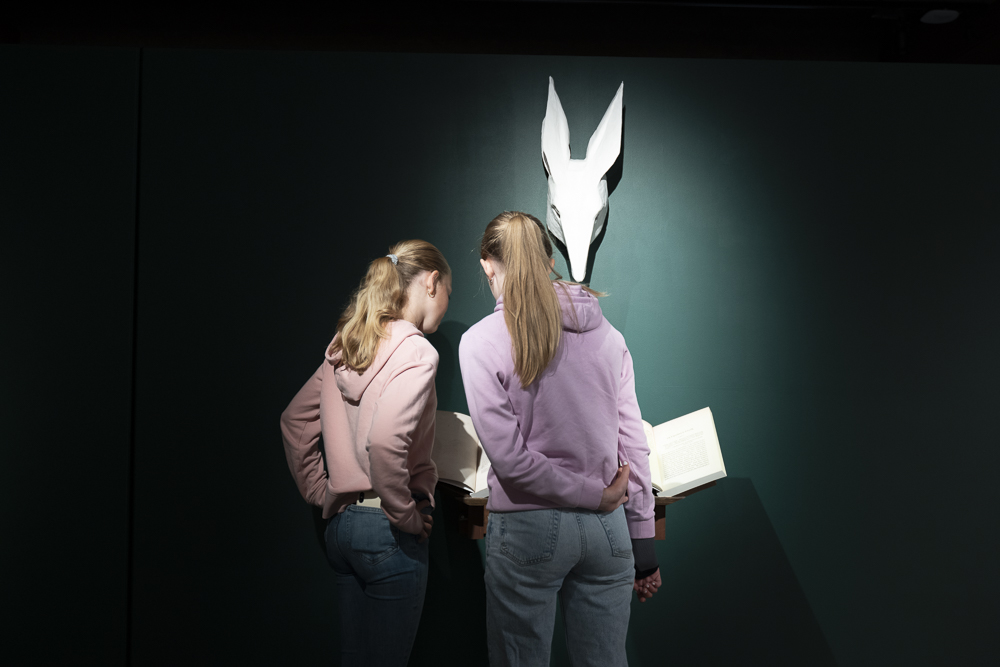 Upcoming events
---
---
The Moped Rider
Exhibition walk with guest: Dipha Thiruchelvam

As part of this exhibition walk, we mainly focus on the work Eyeliner (2022) by artist duo Denicolai & Provoost. We are joined by Bergen Assembly staff member and project coordinator Dipha Thiruchelvam, as well as one of the neighbours whose object was selected by the artists for Eyeliner.

Together we spend time walking through Bryggens Museum and discovering more about the character of the Moped Rider.

Participation is free of charge but requires pre-registration via email.


at Bryggens Museum
---
The Moped Rider
Exhibition walk with activity: An object's story

As part of this exhibition walk, we invite you to share the history or story behind an object in your bag.
This proposes a mode of connecting with the exhibition and bringing our own insights directly into it. There is no requirement to share, but we endeavour to create a casual and welcoming atmosphere. Participation is free of charge but requires pre-registration via email.


at Bryggens Museum
---
The Moped Rider
Family Workshop: Things and their stories

For this workshop, we encourage you to bring along a thing, or photograph of a thing that has an interesting story, a funny history, or a strange meaning.
We come together to share our stories and create a temporary museum comprised of our personal thing. We also read aloud from the book Kubbe lager museum—a picture book about collecting treasures.

Participation is free of charge but requires pre-registration via email.


at Bryggens Museum
---
The Moped Rider
Gathering: Objects and their stories

Have you ever wondered what goes on behind the scenes in a museum? What roles do a museum actually have, and what happens with the objects that arrive at the museum, and from where do they come from? Why do we gather? When and how did the museums came to be? What happens when objects are gathered into a larger collection? We invite the audience to join us on a "Gathering" (Samling), where we together with employees at Bymuseet i Bergen - Kari Skarprud Pettersen (Head of Exhibition & public outreach) og Sølvi Vik (Head of Collection Management), will gain insight into how museums work with objects and storytelling.

This event is a collaboration between Bymuseet i Bergen and Bergen Assembly, in connection with the exhibitions Eyeliner (Denicolai & Provoost), Stream of Stories (Katia Kameli), Pocket Folklore (Shirin Sabahi), and the mediation programme at Bergen Asesmbly. These exhibitions can be seen at Bryggens Museum. The conversation will be carried out in Norwegian.

Participation is free of charge but requires pre-registration via e-mail.


at Bryggens Museum
---
The Bonimenteur
Exhibition walk with guest:
t.b.a.
---
Meeting-point

Meeting-point is the overarching title for the mediation activities for this year's edition of Bergen Assembly—here you are invited to get to know the seven different characters that make up this year's edition through walks, conversations, activities and workshops where we explore and learn together.

In the weeks that follow, you are invited to get close to each of the characters week by week.
Scheduled activities by character

An Acrobats, 14.09.–18.09.2022
The Coalman, 21.09.–25.09.2022
The Moped Rider, 28.09.–02.10.2022
The Professor, 05.10.–09.10.2022

Autumn vacation, 12.10.–16.10.2022
(Mediation program for ages 8–13)

The Fortune Teller, 20.10.–23.10.2022
The Bonimenteur, 26.10.–30.10.2022
The Tourist, 02.10.–06.11.2022