The collection of the Berlinische Galerie in Berlin holds a self-portrait by George Grosz painted in 1927, Selbstbildnis als Warner (Self-portrait as Warner). The artist depicted himself wearing thin, gold-framed, round spectacles, and a blue-grey smock from the twentieth century that would typically be worn by a teacher or scientist. Standing, facing the viewers, he points one finger into the sky in what is seemingly a sign of warning, as he stares out with a deep and worried gaze. He has something to tell to an audience. There is urgency.

The work was produced at a particularly uncertain and hostile time. Painted four years after Adolf Hitler's attempted coup d'état in 1923, it resonates as a tragic prediction when we consider the horrors perpetuated by the Nazi regime in the years that followed. Grosz's political commitment is inseparable from the work. Indeed, this painting speaks volumes to the confidence that the painter had in art's power to convey and deliver an idea, a message—and its inherent educational value. Perhaps that is why he chose the austere attitude of a teacher.

Shown in the context of the Professor, a reproduction of this self-portrait features in a panel exhibition at the Faculty of Fine Art, Music and Design, UiB (KMD), together with folios of political prints published between the 1920s and 1930s in various left-wing magazines and broadsheets, including the lithographs portfolios Im Schatten (In the Shadows, 1921), Die Räuber (The Robbers, 1922), and Hintergrund (Background, 1928). The exhibition closes with a reproduction of one of Grosz's last ever self-portraits, Myself and New York (1957).

In this collage, which is tinged with self-mockery, the artist represents himself as a drunken clown dressed as a showgirl dancing in variety shows. He holds a bottle of Four Roses Bourbon, and New York's skyline at night shimmers in the background. Made long after Berlin's dark years in the interwar period, it was produced within the prosperous context of the United States in the 1950s, building its mythical American dream, where Grosz lived and taught after being forced into exile in 1933. Between the two works—the sobriety and seriousness of the 1927 self-portrait and the exuberant decadence of the second one, made thirty years later—we can see the contradictions faced by an artist who never ceased casting a sharp and critical eye on himself or the society that surrounded him.

The Professor
The Faculty of Fine Art,
Music and Design, UiB (KMD)
Møllendalsveien 61
5009 Bergen
Website →
Artist Biography

George Grosz was known for making caustic caricatures underpinned by a social commentary of life in Berlin. His drawings and paintings are distinctive for their expressive use of line. Studying drawing in Dresden, Berlin, and Paris from 1909 to 1913, Grosz volunteered for the infantry during World War I, after which he developed a strong anti-war stance and produced a number of rapidly sketched drawings featuring his comrades, officers, and nurses, among others.

After moving to Berlin, his collections of drawings repeatedly depicted the ravages of war, including disfigured veterans. He also attacked what he saw as Germany's pervasive moral and social corruption, depicting sordid bourgeois decadence and the disparities between rich and poor, as well as acts of war profiteering during the Nazis' ascendancy. His 1927 painting Selbstbildnis als Warner (Self-Portrait as Warner) was a reaction to the continuing rise of fascism, warning others with a raised index finger to take heed of these socio-political changes, though he later said: "I realised that people just didn't listen to what I had to say with my work. My warning had been, so to speak, a warning blown in the wind." A key figure in Berlin's Dada movement from 1917 to 1920, he was a pioneer of the photomontage with John Hartfield and Raoul Hausmann, and also became associated with the satirical realism of the New Objectivity movement.

As the Nazis took power in 1933, he moved to the United States, having already taught at the Art Students League, New York, and became an American citizen. His style subsequently shifted into painting still-life compositions, and landscapes. Grosz returned to Berlin in 1958 and died only a few months later, falling down a flight of stairs after a night of drinking.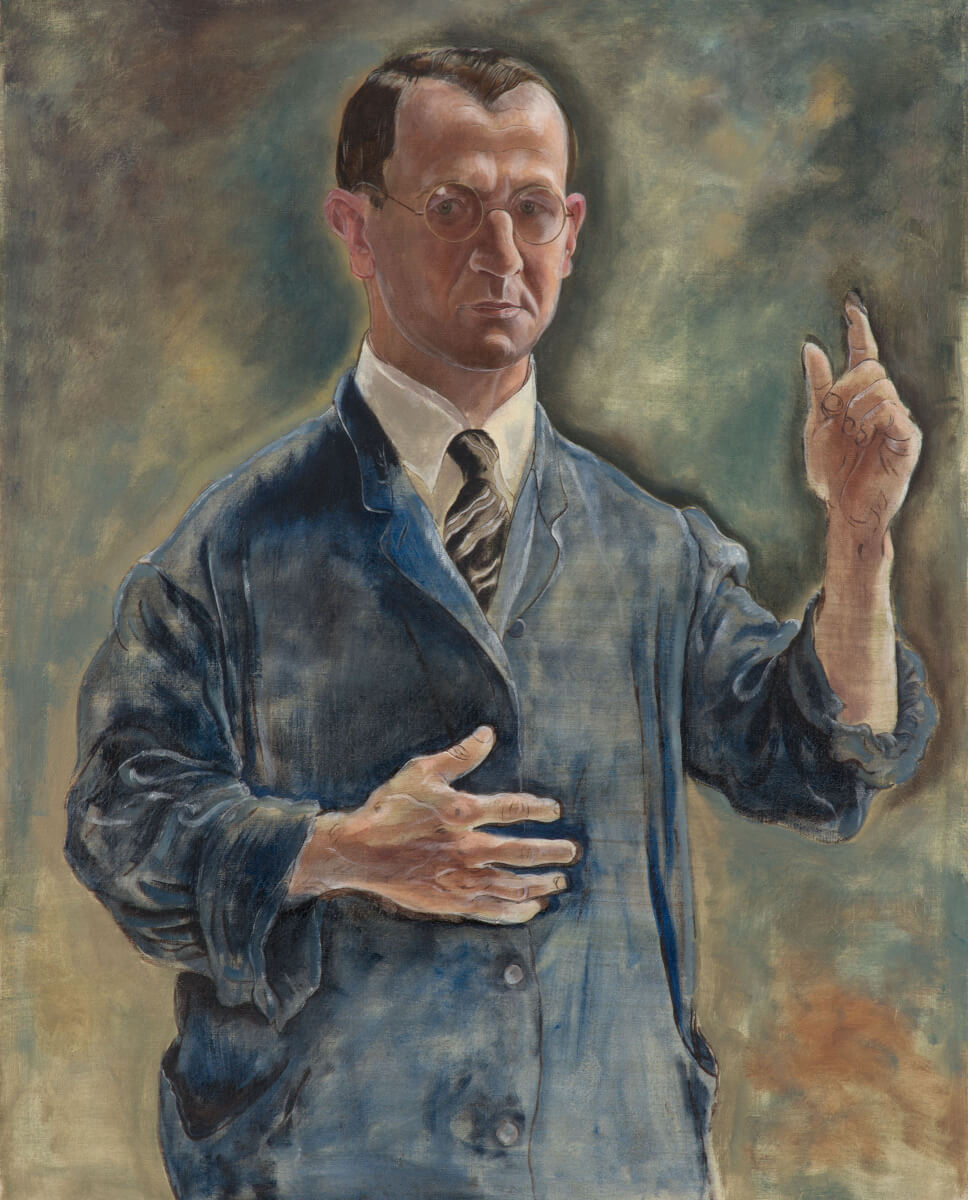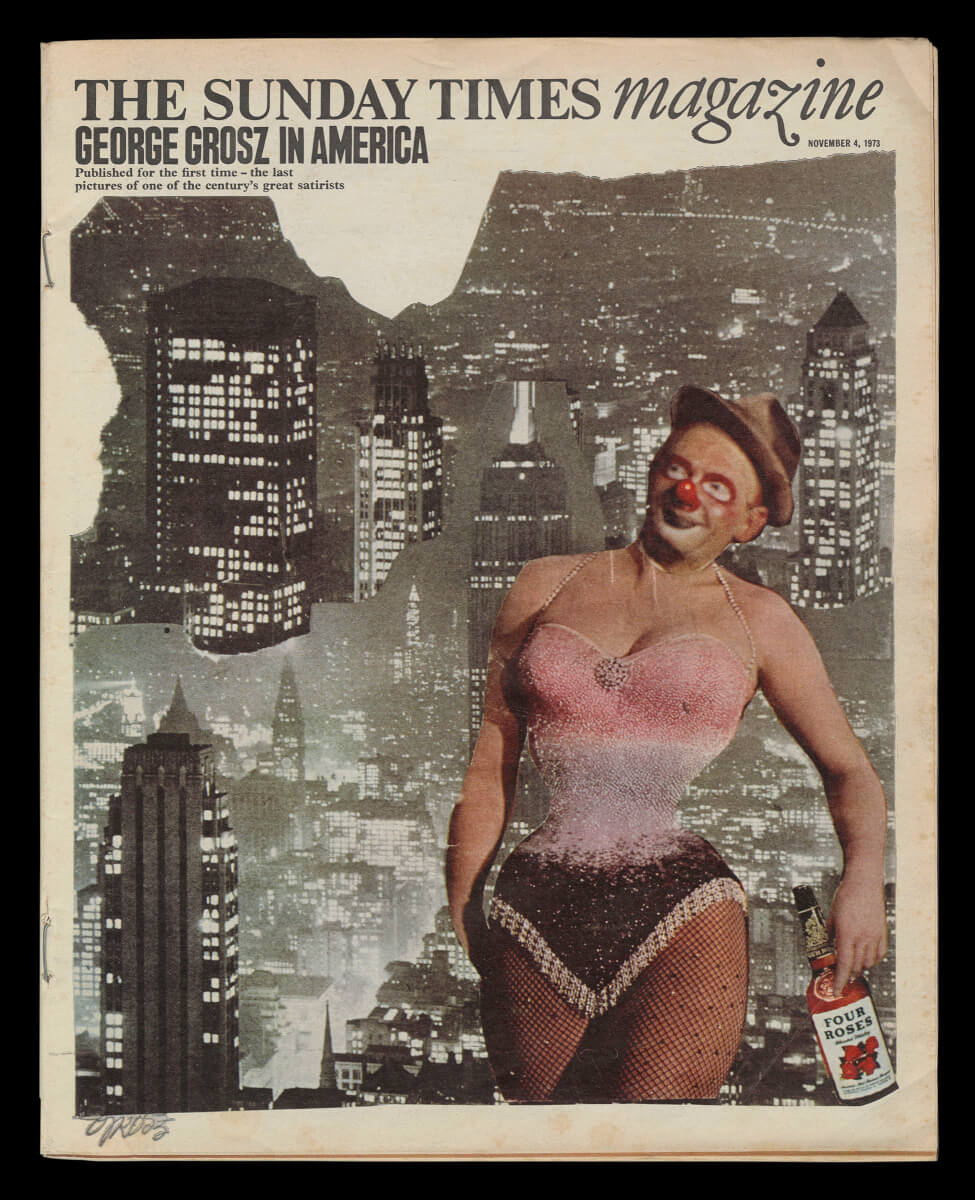 Upcoming events
---
---